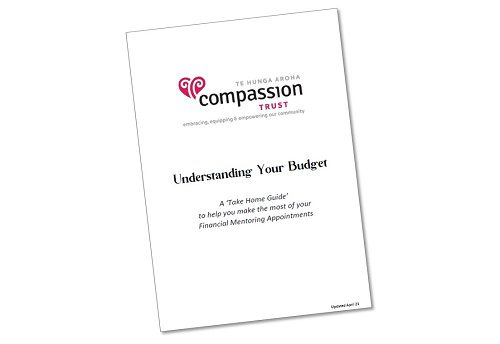 Understanding your Budget Booklet
We've put together a booklet to help you understand and manage  your budget. It includes tips on reducing your expenses, increasing your income, dealing with debt, managing your bills, what to do if you're experiencing hardship and more.
Links below to some useful websites on a range of topics relating to budgeting. 
Please note that not all content on these websites has been checked or endorsed by Compassion Trust.
General Money Advice
Money Hub – Reviews and comparisons on a range of financial products and services such as credit cards, insurance and more as well as advice on topics such as employment, Work and Income, better living and more.
Sorted – Calculators, guides and tools on topics related to finances such as budgeting, debt,savings, investments and more.
Every Dollar Counts – A list of various ways to save money
God Money & Me – Articles on topics such as debt, investment, generosity from a Christian perspective.
Groceries
Cheap Eats Cookbook – This cookbook contains tips for people living on a tight budget including simple recipes, ways to save money on food, and heart-healthy cooking advice.
Otago University Food Cost Survey – Survey data collected from the Otago University with estimates of weekly individual food costs.
Love Food Hate Waste – Tips and recipes to help you reduce your food waste and save money.
Eat Well for Less – TVNZ series aimed at  helping New Zealanders shop, cook and eat better – and save on their household bills along the way.
Goal Setting
Financial Plan of Action Booklet – A resource from MSD for clients, their families and whānau to document their goals. 
No and Low Interest Loans
Aviva – No and low interest loans for low income people living in Canterbury for essential items and services.
Nga Tangata Little Loans – No and low interest loans for low income New Zealanders for essential items or high interest debt relief. You must be working with a Financial Mentor to access this.
Debt Solve – Low interest debt consolidation loans to address unsustainable high cost debt. You must be working with a Financial Mentor to access this.
Advice – Consumer and Legal
Citizens Advice Bureau – Free confidential, independent advice to understand your rights and obligations
Community Law – Free legal advice and information
Legal Aid – Government funding to pay for legal help for people who can not afford a lawyer
Consumer Protection – Information about the process of buying
Consumer – Reviews and comparisons on a range of consumer products
Complaint Line – List of authorities you can complain to if you have a problem.  Covers insurance, energy, human rights, real estate, scams, privacy and more.
Price Comparisons
NZ Compare – Compare deals on mobile, broadband, power insurance and more.
Glimp – Compare deals on broadband, mobile, power, Kiwisaver, insurance and get coupons.
Powerswitch – Helping Kiwis find the best electricity and gas plan.
What's My Number – Free service to work out which power provider and pricing plan is best for your household
Electricity and Heating
Community Energy Action – Independent energy advice and subsidies for heating and insulation
Winter Energy Payment – Information  for beneficiaries about the extra payment received over the winter months
Warmer Kiwi Homes – Government grants for insulation and heaters for low income home owners.
Blanket Bank – Free second hand bedding
Curtain Bank – Free recycled curtains through CEA
What's My Number – Free service to work out which power provider and pricing plan is best for your household
Addiction Support
Alcohol and Drug – Christchurch Central Service – Facilitate access to alcohol and other drug treatment services across Canterbury
Problem Gambling Foundation – Free, professional and confidential support for gamblers and their loved ones.
Oasis – Salvation Army gambling support
Smokefree – Free support to quit the smokes for good
Stop Smoking Canterbury – Free Quit Coaches work with you and your whānau
Quitline– Free call Quitline on 0800 778 778
Quit Strong Campaign – Access a quit coach and get advice to help you quit smoking.
Quit Smoking Christchurch – A healthy living clinic offering a quit smoking programme.
Employment
Work Bridge – Free employment service for disabled people or those with an injury or health condition.
Work Wise – Works with people who are facing personal or health challenges and supports them to return to or stay in employment.
Take Charge – A Christchurch service that engages with young people aged between 18 and 24, that have mild to moderate mental health issues and are looking for work or study.
Step Up Programme – Helps Cantabrians who are on a benefit and have a medical deferral to find and stay in work. It's a partnership between the Ministry of Social Development (MSD), Canterbury District Health Board and Pegasus Health.
Mainstream Employment Programme – A programme for people who have a disability (including a mental health condition) and want to work. It runs for up to one year and can help you get paid work experience and a long-term job.
Dress for Success – Provides  professional attire and the development tools to help women thrive in work and in life.
Connected – A service to help New Zealanders connect to the wide range of Employment, Education and Training supports and advice available through government agencies.
Christchurch Libraries CV's – Resources and advice from the Christchurch City Libraries for writing a good CV. 
Volunteering Canterbury – Connecting people with volunteering opportunities.
Transition to Employment – Information on how Work and Income may be able to help with costs to get you into work.
Job Hunters Workbook – Practical tips and activities to get you back to employment
Tenancy
Tenancy Services – Information and advice regarding the rights and obligations of tenants and landlords
Insolvency
Insolvency and Trustee Service – Information from the Official Assignee about Bankruptcies, No Asset Procedures and Debt Repayment Orders
IRD
Working for Families – Calculator to work out the amount of tax credits you may be eligible for.
Kiwisaver – Information about Kiwisaver including Kiwisaver Savings Holiday and Kiwisaver Hardship Withdrawals.
Work and Income NZ
Check what you might get – Calculator to check which benefits and how much you may be eligible for.
Benefits and Payments – A list of benefits and payments available through Work and Income
Other
Variety – Helping disadvantaged New Zealand children to have happier, healthier childhoods.  Apply for child sponsorship or for one off costs.
Skinny Jump – Low cost internet for households that don't have internet because cost is a barrier.
NZ Dental Charity – If your access to dental care is limited due to cost you may be eligible for free dental treatment through Revive a Smile.
Free Dental Days – Free dental treatment for low income adults in New Zealand.
Hapai Access Card – Previously called the Kiwi Able Card. Gives people with disabilities access to discounted rates for recreational activities and general services.